Main content starts here, tab to start navigating
Oggi's Sports | Brewhouse | Pizza
Serving Since 1991.
The Oggi's franchise was originated by two brothers, George and John Hadjis, who began serving up their own pizzeria experience in August of 1991. After more than 20 combined years working in the technology industry, George and John opened their first restaurant in Del Mar, California as a franchisee of an existing local pizza chain. Throughout the years, the restaurant concept evolved from a pizzeria style to a sports-themed restaurant with many televisions, the addition of delivery, followed by the evolution into the brewing industry.
In 1995 micro-brewed beer was exploding onto the scene and everyone agreed that a micro-brewery would be a perfect complement to the existing restaurant concept. The concept expansion was a natural fit; it blended perfectly with our main product (pizza), as well as the established sports theme in the restaurant. Adding a micro-brewery to the restaurant defined the concept indefinitely and broadened the business' customer base even further.
These decisions greatly expanded the concept that we know today as Oggi's.
With the concept well off of the ground, the Oggi's team spent the next three years perfecting the beer recipes and the overall operation while building a strong brand following in Southern California. Oggi's Pizza & Brewing Co. enters into many beer competitions locally, regionally, nationally and internationally. In 2004, Oggi's Pizza & Brewing Co. was named the Champion Small Brewing Company at the World Beer Cup. This is just one of many awards that Oggi's has received for our micro-brewed beers.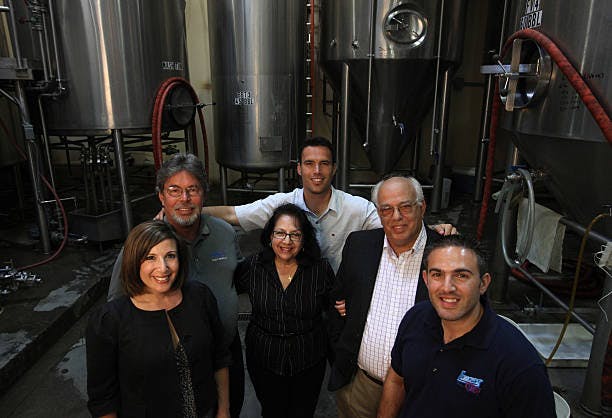 "Oggi" stands for "today" in Italian. It symbolizes freshness as well as "the here and the now". It is congruent with high-quality pizza, pastas, salads, beer, and even sports. Oggi's dough is made fresh daily at each location, as well as the stadiums that it is sold in. In addition, our sauces, dressings, burgers, and much more are made fresh daily from scratch as well.
Oggi's continued to make great strides in branding itself with activities that would appeal to our demographic. Oggi's has negotiated partnerships with 5 professional sports organizations. Specific Oggi's menu items are also available at the track stadiums throughout their respective seasons.
Today the Oggi's franchise consists of 16 locations in Apple Valley, Barstow, Carmel Mountain Ranch, Del Mar, Encinitas, Fontana, Garden Grove, Liberty Station/Point Loma, Mission Valley, Mission Viejo, Santa Clarita, Santee, SDSU, Upland, Vista, and Glendale (AZ).